As consumers pull away from big-brand products full of parabens, sulphates and detergents. Instead, natural plant oils are proving a popular alternative. But there are so many to choose from – where do you begin? Coconut oil has been doing the rounds for a while now. But despite the hype, it has been found to weigh down fine hair and clog pores due to its high comedogenic rating. A lighter option, and one that's being brought into the spotlight by independent ranges like The Ordinary and The Inkey List, is Rosehip Oil. In this article, I will share with you the benefits of using rosehip oil for hair.
In a hurry? If you don't have time to read the full article, we recommend the Kate Blanc as the no.1 rosehip oil brand, among the 20+ brands we examined in the market.
What is Rosehip Oil?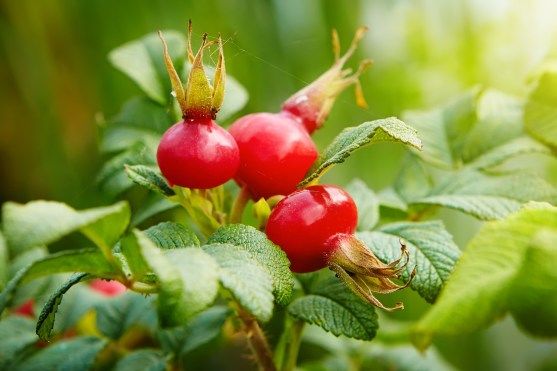 Rosehip oil comes from wild rose plants such as the rosa rubiginosa (commonly known as sweet briar), rosa moschata (musk rose), or the rosa canina (dog rose). You'll often see these types of roses in hedgerows or meadows.
Rosehip oil is not made from the petals like rose oil, but extracted from the fruit. The red bulbous fruit that grows underneath the petals of wild rose plants when the flower has been pollinated. Rosehips can be dried to make tea, made into jams or jellies, or pressed to make rosehip oil.
It is suitable for direct hair and skin application. In terms of benefits, it shares a lot of similarities with other well-known plant oils such as jojoba, argan and coconut. It is full of hair-loving treats such as vitamins, fatty acids, and antioxidants. It's an amber liquid with an earthy scent. Cold-pressed rosehip oils are best for retaining all the vitamins and goodness the fruit provides.
<<Click here to see the Best Rosehip Oil Brand on Amazon>>
---
Top 6 Benefits of Using Rosehip Oil on Hair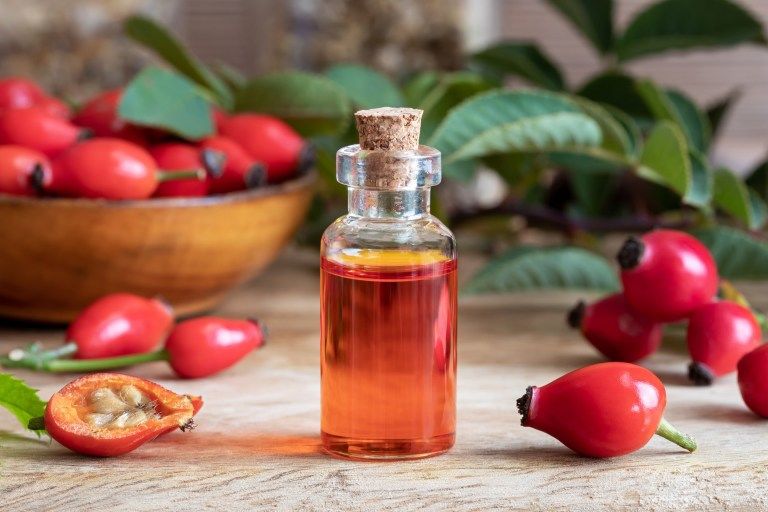 1. Rebuild the Moisture Barrier
Hair can suffer when the moisture barrier begins to break down. If it's damaged beyond repair, you'll end up with split ends and breakage that can only be cured by one thing: a haircut. Damage to this barrier can be caused by many things, including bleaching and dyeing, chemical treatments like perming and relaxing, heat damage, and over-washing.
The oleic (omega-9) and linoleic (omega-6) fatty acids found in rosehip oil are fantastic for rebuilding this outer layer. Omega-9 is an emollient, meaning it draws in moisture and seals it in place with a protective layer.
2. Provide a Vitamin Boost for Lacklustre Hair
Vitamins A, C and E all occur naturally in the body, but sometimes we don't get quite enough from our diets to bolster our supply. Even if we do eat a vitamin rich diet (leafy greens, citrus fruits, nuts and seeds), nourishment can struggle to reach the outer layers of our skin and hair. This is why we use topical creams and conditioners.
The vitamins A, C and Vitamin E found in abundance in rosehip oil reinforce our natural supply, stimulate the natural processes of the hair and follicle, rid the scalp of buildup, and encourage healthy growth and resilience. High concentrations of vitamins A and E are found in apricot kernel oil.
3. Moisture Infusion
Both the vitamins and fatty acids inherent in rosehip oil serve a simple purpose – infusing moisture into the core of the hair.
The vitamins help the oil to absorb deeply into the hair shaft. The fatty acids imitate our natural oils, working to quench thirsty tresses and nourish brittle ends. Avocado oil also contain similar amount of omega 3 fatty acids.
4. Rosehip Oil for Hair Growth
The high content of Vitamin C, essential fatty acid, and lycopene in Rosehip oil aids in hair growth. They promote hair growth by increasing the overall strength of our hair. As the strength of our hair increases, we are less likely to experience hair loss. Kate Blanc is the most effective Rosehip oil brand for promoting hair growth.
5. Combat Scalp Conditions such as Dandruff
Rosehip oil contains phenols – antiviral, antibacterial and antifungal compounds that occur naturally in plant oils ( such as Lavender Oil). These work to treat and diminish dandruff-causing bacteria on the scalp, and soothe itchy, flaky skin.
Due to the density and moisture of hair, it's easy for fungal bacteria to mount on the scalp, clogging the follicles. Rosehip oil is an ideal combatant of these issues. Being antifungal, it contains vitamin E which helps to clear the scalp of buildup at the same time as treating the root cause.
6. Fight Free Radicals
Just like our skin tissue, the tissue that constitutes our hair is susceptible to damage from unbonded oxygen atoms in the air. These unbonded oxygen atoms are called free radicals. They bond to our natural tissues and cause damage (or 'oxidative stress').
Rosehip oil is packed with antioxidants, and can protect the quality and integrity of our hair by fighting off these unstable atoms.
---
How to Use Rosehip Oil on Hair?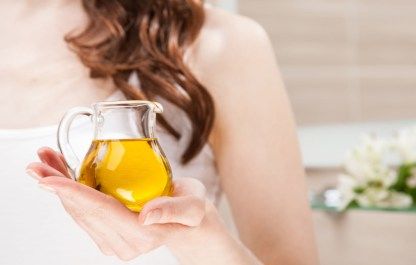 Way # 1 – Rosehip Seed oil is gentle enough to be massaged directly onto the scalp. Apply a few drops on your and massage it thoroughly onto your scalp.
Way #2 – If you have dry dead-end hair, you can also warm a few drops between your hands, and smooth it over the lengths and ends.
Way #3 – For a gentler dose, combine it with shampoo. It is light and non-residual, so it should not affect cleansing.
Way #4 – You can also add Rosehip oil to your conditioner to moisturize, nourish, and aid detangling. Leave the mixture of oil + conditioner on your hair for 5 minutes to allow your hair to drink all the nutrients. Wash it away afterwards.
---
Best 4 Rosehip Oil Brands for Hair
As a natural oil fanatic, I have used over 10+ brands of rosehip oil on my hair and skin. Below are the 4 best quality rosehip seed oils you must try NOW!!!!
<<Click here to see price on Amazon>>
If you're looking to experiment with a rosehip oil before introducing other ingredients to your regime, Kate Blanc provides an option that is 100% pure, cold-pressed, and unrefined. It also uses cold-pressed extraction method to ensure that any bacteria is eradicated from the plant source, but all of the goodness is kept in. It is also unrefined – to maintain the natural scent and colour.
This product comes in a simple dropper bottle for easy application to the hair, face, neck, body, nails, and cuticles hair. Let the inherent vitamins, fatty acids and antioxidants in rosehip oil remedy any area that's lacking in nourishment.
---
<<Click here to see price on Amazon>>
Pura D'or is a brand known for making a line of 100% Pure, Organic, Cold-Pressed, and Unrefined oil. One of the most important elements when selecting oil brand, is to look for brands that use a "cold-pressed" extraction method. This method extracts oil from the rosehip seed without any chemical interventions and nor the addition of any substances. As a result, it retains all vitamin and antioxidants. Using 'cold-pressed' method, Leven Rose oil contains all the goodness of Vitamin A, C, E, Oleic acid and Lycopene. After using this oil for a few weeks, you will notice your lacklustre hair become shinny, moist, and healthy-looking!
---
<<Click here to see Price on Amazon>>
Oliva Care's rosehip oil is made with 100% natural oil. The primary ingredient is rosehip oil, and almond oil is added as a secondary ingredient to further boost the moisturizing effect. This oil is packed with Vitamin A, C, E and Omega 6. It is effective in nourishing, strengthening, and adding shine to your hair.

You can apply it directly to your hair and skin because it is gentle. For people with oil hair type, you can add it to your shampoo while you are washing your hair. This will allow your hair to reap the benefits while not leaving your hair with grease residue.
Made in USA, it is also organic, vegan, alcohol-free, and non-GMO modified. This is one of the best rosehip oil I have used so far! You can indulge your hair and skin with this oil with zero-worry!
---
<<Click here to see Price on Amazon>>
Similar to Olivia Care and Kate Blanc brands, Majestic's Rosehip oil is 100% pure and cold-pressed as well. Made in USA, It is also Certified Organic by USDA. If you look at the ingredient list, you will see the only ingredient being Rosehip Oil. That means no artificial coloring, scent, chemicals, preservatives, pesticides are present in the bottle.
Comes with a dropper in a 120ml bottle, you can use it on not only your hair, but also on your skin, nails, and face. It restores elasticity, softens wrinkles and fine lines. Its nutritious content can brighten your skin tone and can treat a range of skin conditions. Moreoever, the linoleic acid in rosehip oil can help reduce hyperpigmentation in scars and acne.
---
Side Effects and Precautions of Using Rosehip Oil on Hair
Allergies with using rosehip oil is not common. However, we would recommend you to test it a small patch om your skin first before applying it fully onto your hair. You can test it by dropping a few drops on the back of your hand and wait for a 30 mins to see if you have any allergic reactions to it.
Rosehip oil can only be used for external application but not oral consumption. When applying rosehip oil for hair, make sure you do not accidentally get it into your eyes or mouth. If it did, wash off with warm water.
---
How Long does it Take, to See Hair Growth using Rosehip Oil?
There is no doubt that rosehip oil is beneficial to hair. However, it's important to recognize that we cannot "speed up" our hair growth rate.
How fast our hair grows, and the length it reaches, plateaus, and sheds at is down to the genetic lottery.
Genetics play perhaps a more significant role for men, as they dictate how fast and how early a man might lose his hair. That said, pattern baldness can affect both men and women.
Most users reported stronger and healthier hair after apply for rosehip oil for 3 weeks.
---
Conclusion
Rosehip oil is not a cure-all for hair growth. However, it can nourish the hair and scalp, prevent the hair from breakage.
We conclude that Kate Blanc is the best rosehip oil for hair because of the high quality of the oil, it's cold-pressed extraction method and proven results from users.
We recommend you to read Marula Oil Vs Rosehip Oil for more confirmation on various plant oil for skin.