Argan oil Vs Jojoba oil : which oil is better for your skin and hair? The main reason these 2 plant oils are often compared is because they share a key asset: high oleic and linoleic acid content.
Oleic acid (omega-9) and linoleic acid (omega-6) are types of essential fatty acids. Deficiencies of these in the body can lead to skin problems and imbalances.
One powerful benefit of these plant oils lies with their antioxidant and anti aging properties. Free radicals in the environment cause damage to our skin cells, proteins, and DNA (known as oxidative stress). This is why incorporating these oils in our skin care routine is crucial in fight against ageing.
Quick Summary:
√ Jojoba oil is great for skin because of its anti-microbial properties. It can be used to treat acne. It is also great for hair because of its ability to prevent dandruffs, prevent hair loss, while boosting moisture. Cliganic's Jojoba oil is the best brand made with 100% pure jojoba oil.
√ Argan oil is great for face because of its anti-aging, nourishing and anti-inflammatory properties. It is great for hair because it has the ability to repair damaged hair. Golden Glow Face Oil is the best face oil with Argan Oil packed with other natural superfood for your skin!
---
What is Jojoba Oil?
Jojoba oil comes from the seeds of the jojoba plant (Simmondsia chinensis), which is native to southern America and Mexico. It's known for its nourishing and antibacterial properties.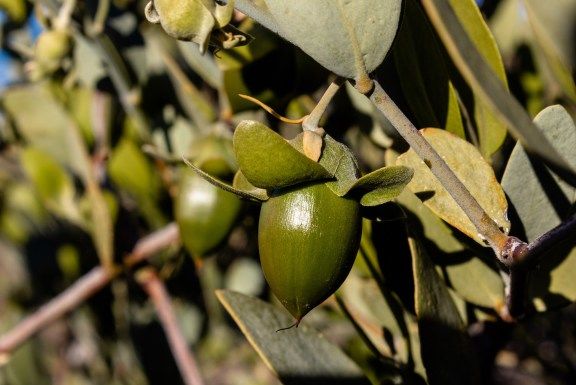 What is Argan Oil?
Argan oil, from the kernels of Moroccan argan trees (Argania spinosa L.), is a long-used oil in skin and hair care products. It is known for its moisturising, antioxidant and healing powers.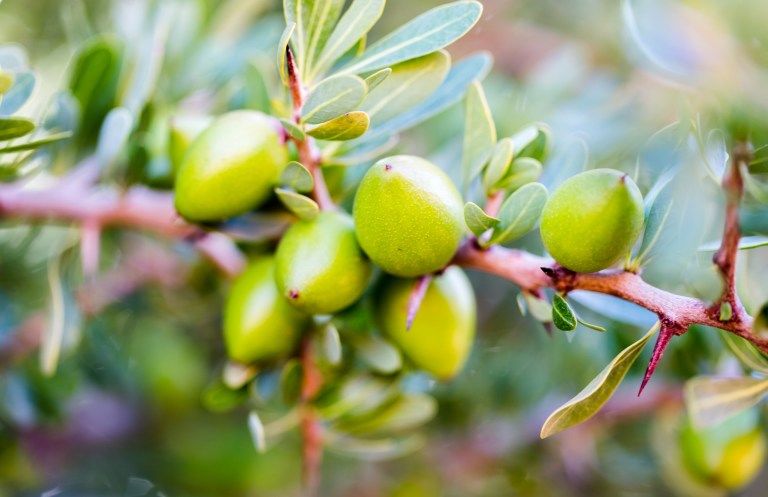 ---
Jojoba oil vs Argan oil for Skin: Which is Better?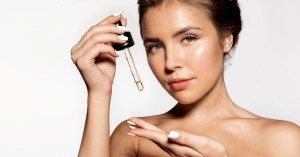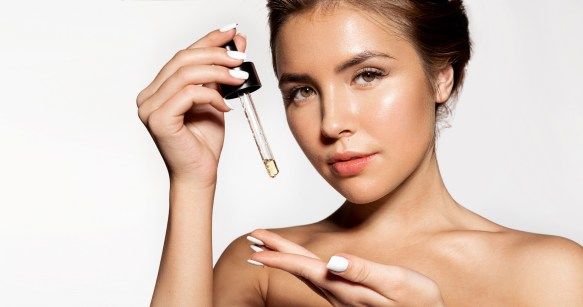 Jojoba Oil's Benefits for Skin:
Supreme skin balancing powers: Although commonly referred to as an oil, jojoba oil is actually a liquid wax, and its chemical make up is extremely similar to the sebum oil that we produce in our skin. This makes it fantastic for balancing problem skin.
Treatment of spot-prone skin and acne: if you have oily skin, your body is overproducing sebum, which can lead to clogged pores and acne. Jojoba oil can address this by regulating sebum production. Jojoba oil will not clog pores.
Treatment of dry skin: by the same token, oleic acid in jojoba oil can help your skin to boost oil production if your skin is lacking in it. Cliganic is a brand with 100% pure argan oil which highly moisturizes your skin.
Antibacterial properties: Jojoba oil can banish spot-causing bacteria. It's antibacterial properties also assist in the treatment of eczema.
Protection against sun damage: Pure jojoba oil has an SPF of 4. It's not quite high enough to forgo daily sunscreen application (which should be at least SPF 30). Instead, it's an added boost in defense against UV rays, and in repairing historic sun damage.
⇒ Best Jojoba Oil Brand on Amazon: Cliganic
Argan Oil's Benefits for Skin:
Sumptuous Moisture and Nourishment: Argan oil can be used alone or within creams or serums to rehydrate dry skin, leaving it soft and supple. This is because it's rich in Vitamin A which aids in regeneration, and Vitamin E which improves water retention and healing.
Anti Aging Properties: Argan oil's vitamin E content, antioxidants, oleic acid and linoleic acids make it an ally in the fight against ageing, and a repairer of (and defender against) sun damage. Argan oil is proven effective for reducing lines and wrinkles. Combine argan oil with morgina and Marula oil will yield the best anti aging results. Model Off Duty Beauty is a superfood oil blended with all 3 magical oils.
Anti Inflammatory Properties: Argan oil can soothe irritated skin, and has antifungal and antiviral properties. Some find it helpful for conditions such as psoriasis and rosacea.
Treatment of Marks, Scars and Stretch Marks: Argan oil's vitamin A and E content comes to the rescue again in the treatment of scars, acne scars, and stretch marks, and the lightening of age spots and pigmentation. These vitamins encourage skin cell turnover and stimulate new growth.
⇒ Best Argan Oil Brand on Amazon: Model Off Duty Beauty
---
How to Use Jojoba oil vs Argan oil for Face?
You can use both oils as nourishing moisturizer, or as an additional moisture boost following your regular cream.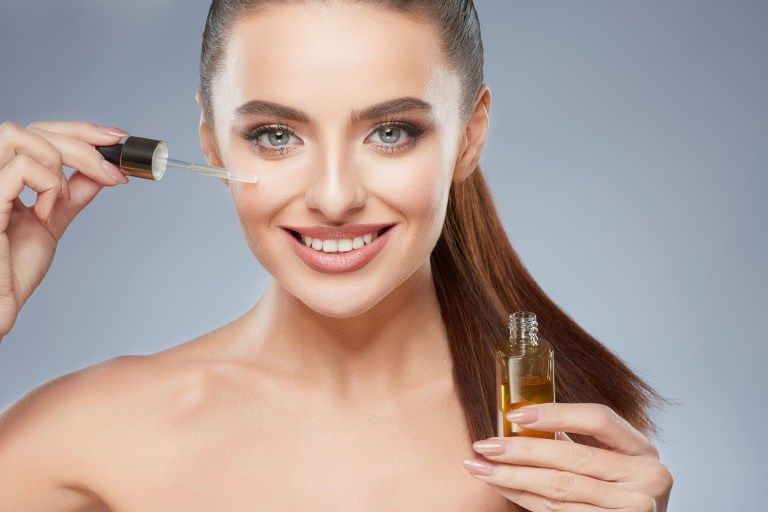 Way #1 – Direct application
To use Jojoba or Argan oil for face as a skin care routine, massage 2-3 drops onto dry skin in the evening after shower. It's best to apply it to clean skin after shower or face wash as it allows maximum absorption. A little goes a long way.
Way #2 – Add to your night moisturizer
Argan oil makes a particularly good addition to night-creams. It allows its nourishing vitamins to penetrate deeply over the course of several hours when you sleep. Take out the portion of night cream you would use and put on your palm. Add 1-2 drops of oil to the night cream. Mix the night cream and oil together and warm the mixture up by rubbing your hand. Then massage gently into your face.
---
Is Your Skin Type Suitable for Argan oil vs Jojoba Oil?
An oil's comedogenic rating speaks to how much it will clog your pores. Argan oil has a rating of zero, meaning there is no risk of pore clogging.
Jojoba oil has a rating of 2, giving it a slight risk.
Since both oils have low comedogenic scores, they can be used on ALL skin types without blocking pores.
Argan oil has a particularly high linoleic acid content of 35 % (compared to just 5% in jojoba oil). It also has a high oleic acid content of 45%.
This high essential fatty acid content may be a touch excessive for acne-prone or oily skin. But it's ideal for dry, under-nourished or mature skin.
Jojoba oil is fantastic at emulating our own sebum, it's an excellent and uncomplicated option for oily skin and acne-prone skin. It is also ideal for balancing combination skin.
---
Argan Oil vs Jojoba Oil for Hair: Which is Better?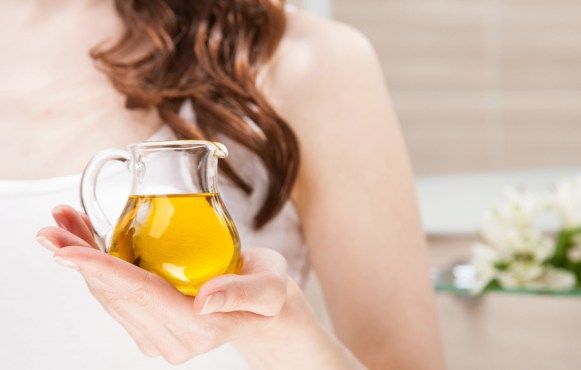 Argan Oil Benefits for Hair:
Repairing damage caused by styling: Excessive use of hair dryers, tongs and straighteners can cause the outer cuticle of the hair to break down, leading to split ends and fragile lengths. Argan oil is a saint for feeding brittle hair with nutrients and rebuilding the moisture barrier. Argan oil hair mask by Moroccan Gold Series is the best hair mask that is most effective in revitalizing damaged hair.
Counter damage from dyes and bleach: Colouring or chemically straightening the hair can damage it over time, especially when bleaching hair from dark to very light. Jojoba oil's vitamin and mineral rich makeup can reverse damage and replace lost moisture.
Protecting against environmental damage: UV rays, free radicals, and pollution in the air can all have a detrimental effect on your hair. Argan oil contains vitamin E and antioxidants that naturally combat and protect against these environmental aggressors.
Moisturize and nourish dry scalp: The reason why many are using Argan oil for dry scalp because it contains a high content of great fatty acids such as oleic acid and linoleic acid. These fatty acids are very effective in deeply moisturizing your scalp.
⇒ Best Argan Oil Mask on Amazon: Moroccan Gold Series
Jojoba Oil Benefits for Hair:
Dandruff treatment and prevention: Jojoba oil contains zinc and selenium, which you'll spot as key ingredients in most dandruff-treatment shampoos. Jojoba oil is an excellent natural way to get these medicinal minerals without the chemicals and foaming agents. Cliganic is the best Jojoba oil brand for application on hair.
Hair loss prevention: A nourished hair follicle is a productive hair follicle. The nutrient-rich properties of jojoba oil (namely, vitamins E, B, and zinc) have anecdotally been suggested to boost hair growth.
It can also repair damaged lengths, and is actually a key ingredient in the bond-building treatment Olaplex. Jojoba oil (similar to castor oil) is often used for eyelashes for these reasons.
Balancing oil production: Oil production can be complex in the hair as well as the skin. We need oil to keep our hair nourished, but overproduction can lead to a build up in the follicles that inhibit growth.
Jojoba oil dissolves this excess sebum, and balances pH levels, promoting a normal, healthy growth rate.
⇒ Best Jojoba Oil Brand on Amazon: Cliganic
---
How to Use Jojoba Oil for Hair?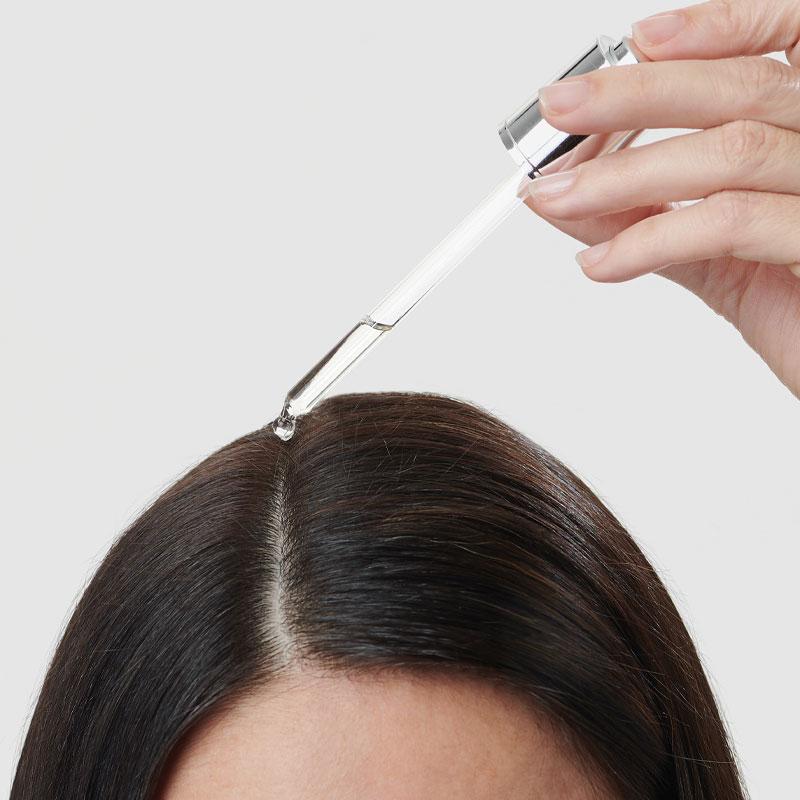 Jojoba oil can be massaged directly onto the scalp for healthy, dandruff-free follicles.
It can be applied to the hair and scalp as a hair mask prior to washing. Leave it on for 5 mins for absorption. Then simply wash it away with shampoos to remove excess oil.
You can apply it to wet hair to keep it frizz-free as it dries. Or you can apply it to dry hair to smooth down flyaways, and protect it from pollution. Castor oil is a similar alternative to Jojoba oil.
How to Use Argan Oil for Hair?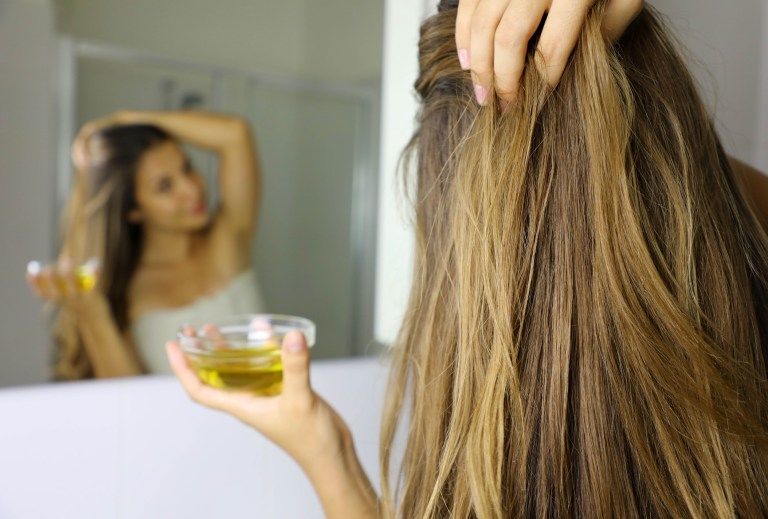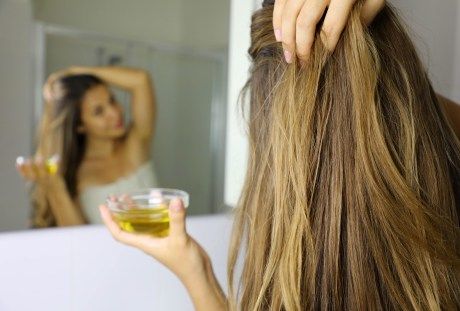 Argan oil is richer and so is best applied to the hair shaft. Apply a few drops from the mid-lengths through to the ends of the hair.
It can be applied to the roots and scalp, but be careful, as you might overload your hair with fatty acids and disrupt your hair's natural pH balance.
---
4 Best Argan Oil Brands
Click Here to see Price on Amazon
The Mother Nature brand is an excellent representation of all the things you should be checking off your list when oil shopping. It's 100% pure, virgin, unfiltered and cold-pressed.
It also comes with the nutty scent and light golden hue that signify the authenticity of the product.
It comes in a glass dropper bottle designed for use on hair, skin and nails (it can be very nourishing when massaged into the nailbeds). An ideal option if you're looking to reap the rewards of argan oil with no dilution.
---
Click Here to see Price on Amazon
Pura D'Or Organic Moroccan Argan Oil is another high-quality, trustworthy product that has been processed by cold pressing. You'll often see 'Moroccan oil' and 'argan oil' used interchangeably, as Morocco is the sole country of origin for argan oil.
This one comes with a pump rather than a dropper, enabling you to distribute larger amounts at a time, making it ideal for all over body moisturising. This is one of the best argan oil for face.
---
For a more comprehensive package of nourishing oils, Model Off Duty's offering comes packed with bonus ingredients such as moringa oil, coconut oil, baobab, jojoba, and jasmine.
Argan oil features high up on the list of ingredients, meaning there's a good concentration within the formula.
This is a light oil with a light scent, meaning it's ideal for ALL skin types, even oily and sensitive skin.
Click Here to see Price on Amazon
The price is a little steeper than many 100% pure argan oil tinctures, but you get a veritable cocktail of superfoods for your skin. It will last you a long time since you'll only need 2 or 3 drops a day.
---
Click Here to see Price on Amazon
This luxurious argan oil mask for hair is made with pure Moroccan Argan oil (enriched with Keratin) to penetrate deeply into the hair shaft. It conditions, nourishes and locks in moisture in your hair.
Think of it like a superfood smoothie for your hair and scalp. It is something for thirsty follicles to drink up so they can return to a brand new state of health and strength.
This product is also good for those with fine, limp or greasy hair, who feel putting pure oil directly onto their roots might weigh it down.
---
4 Best Jojoba Oil Brands
Click Here to see Price on Amazon
A much bigger, more generous offering than many small tincture bottles you might come across, Cliganic's 100% Pure & Natural Jojoba Oil is suitable for hair, face and body, with a pump action bottle for easy access.
It's cold pressed, unrefined and undiluted, and is an excellent entry point for those wishing to experiment with jojoba oil all over the body.
---
Click Here to see Price on Amazon
If you're not quite ready to commit to a full 16oz bottle, start small with something like Mother Nature Organics Jojoba Oil. This is one of the best jojoba oil because it's cold-pressed and organic.
It comes with the same quality credentials as the Cliganic brand, but in a smaller bottle, with a dropper for distributing smaller amounts – ideal for delicate areas like the face, nails, or for smoothing through split ends.
---
Click Here to see Price on Amazon
For an extra nourishing boost, try a product that's paired with other oils to pack even more vitamins and antioxidants into your skin care regime.
Sky Organics Vitamin E Oil comes with just four simple ingredients bursting with benefits. They are soybean oil, rosehip oil and jojoba oil for fatty acids, vitamins and antioxidants, and d-alpha tocopherol (the purest form of vitamin E). This oil is many users' favorite for reducing the appearance of stretch marks as well.
---
Click Here to see Price on Amazon
The fact that so many vitamin E serums and oils come with jojoba oil as its main ingredient just goes to show how full of vitamin E jojoba oil is.
This is a deep cleansing and therapeutic oil that comes with all of the benefits we're familiar with for hair, skin and nails. It's infused with prickly pear cactus oil and other skin care goodies such as avocado oil, apricot oil and coconut oil.
This combination makes it especially powerful in the treatment of fine lines and wrinkles, and the diminishing of stretch marks.
---
Possible Side Effects of Jojoba Oil vs Argan Oil
There are no known side effects from applying either jojoba oil and argan oil topically. For some very rare cases, in which allergic reactions may lead to rashes or itchiness. Therefore, you can test it by applying one drop of oil on the back of your hand to see if you are allergic to it or not.
---
How to Shop for Jojoba Oil vs Argan Oil?
When shop for any seed oil such as jojoba oil and argan oil, look out for words like 'pure', 'organic', and 'cold pressed'.
Cold pressed means that the seeds, nuts or kernels have been processed at -35℃, under immense pressure. This forces out any bacteria and impurities, while keeping the vital minerals intact.
The color should be a pale gold, with a smooth texture, and a nutty aroma. If the liquid is pale, or smells more floral or fruity that nutty, it may have been diluted, or mixed with other oils.
For the most potent delivery, look for 100% jojoba or argan oil. If you want to go for a product that has other beneficial oils or ingredients, just make sure the active oil is high up on the ingredients list. The lower down it is, the less volume there will be in the formula of the product.
---
Conclusion
Argan oil vs jojoba oil – they don't need to be enemies. You can use both oils paired, alternated, or blended with other essential oils in order to boost and multiply their independent benefits.
Argan oil by Mother Nature Organics has the highest positive reviews due to its organic and pure ingredients.
Best Jojoba oil brand is Cliganic which is suitable for direct application on hair, face and body.
Suggested read: Top Benefits of Using Avocado Oil for Skin, Face and Hair