Kiehls Skincare Review
Kiehl's is one of the most beloved brands in the world of beauty. It is a brand that has been around since 1851. They specialize in skin, hair, and body care products with the goal of providing customers with high-quality natural ingredients for their needs.
With products in skincare line that not only work but also have rave reviews from all over the world, Kiehl's is a top contender for your money. Besides selecting high-quality natural ingredients, Kiehls also put a lot of focuses on research & development.
All products are powered up through rigorous testing processes before being formulated into effective yet gentle formulas tailored to different needs.
However, not all products suit everyone. It depends on your skin type and your needs.
In this article, we'll discuss 10 best & worst products and share an honest Kiehls skincare review.
---
#1. Kiehl's Ultra Facial Cream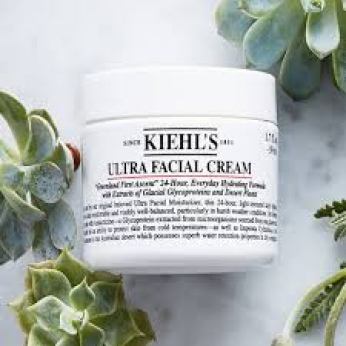 Kiehl's Ultra Facial Cream is the answer to dry, dehydrated skin. Its lightweight formula delivers hydration and supports your skin barrier while leaving you with softness that you have never felt before! My Kiehls skincare review for this facial cream is that olive-derived squalane and glycerin will be your skin's new best friend.
We never thought we would find a moisturizer for my combination skin, but this little gem is it! It's rich and hydrating without being too heavy or sticky. It is our go-to product for everyday skin care. The texture of this cream is non-greasy yet ultra-hydrating.
This moisturizer is perfect for those who love the feel and texture of a product that immediately relieves dryness. The scent is light, allowing you to smell fresh all day long without any fragrance overpowering your senses.
We only wish that it was more affordable, but you cannot really put a price on good skincare that actually works.
Verdict: Buy it.
---
#2. Powerful Strength Line Reducing Concentrate
Kiehl's Powerful-Strength Line Reducing Concentrate is a Vitamin C serum that reduces the look of fine lines and wrinkles. It also helps with reducing large pores and smoothomg out skin texture leaving you a more youthful appearance!
For those who have sensitive skin, this Vitamin C rich serum may work wonders. Kiehl's Powerful-Strength Line Reducing Concentrate is the next generation of their vitamin C serum, which has been a popular choice for people with sensitive skin.
This new formula contains an advanced concentration of 12.5% Vitamin C plus Hyaluronic Acid that helps reduce lines on your face in as little time as it takes to apply!
Verdict: Buy it (if you have dull-looking or aging skin)
---
#3. Retinol Skin-Renewing Daily Micro-Dose Serum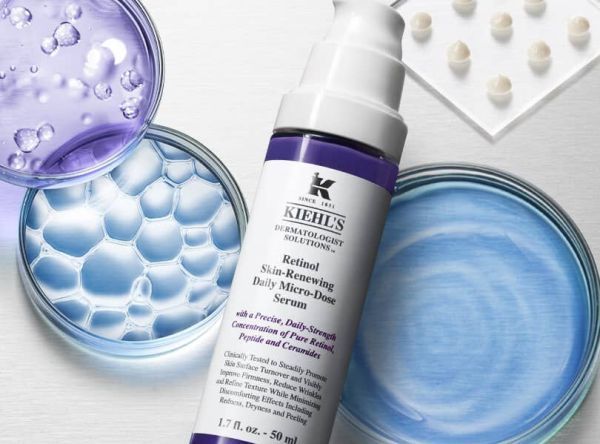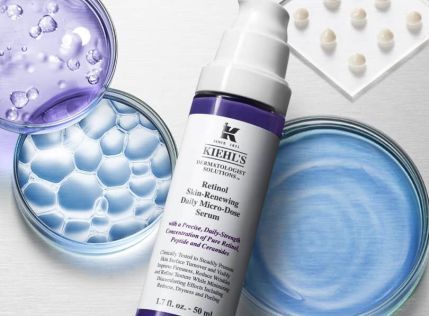 The Retinol Skin-Renewing Daily Micro-Dose Serum is a potent retinol serum in daily strength that reduces wrinkles, firms skin, and evens out your complexion with minimal discomfort. It's paraben-free as well as fragrance-free, so you can be sure it won't irritate sensitive skin!
The tricky part about retinol is that it's sun sensitivity and skin peeling. This serum is gentle enough and does not cause any flakiness. However, the serum lacks the right formulation to increase the cell turnover or collagen production in the skin. Even after four weeks of use, you may not see any changes in the visible wrinkles and fine lines.
The peptides and ceramides are hydrating for the skin, but most users did not see much anti-ageing results after 12 weeks of usage. There are better retinol products out there – Lilyana Retinol Serum is a more effective serum is proven to boost collagen product and reduce appearance of wrinkles.
Verdict: Skip this one. Try Lilyanna's instead
---
#4. Creamy Eye Treatment with Avocado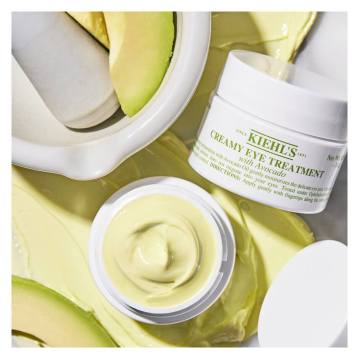 Ditch the eye cream and invest in this rich, thick, creamy eye treatment with Avocado by Kiehl's. It will moisturize your eye area while providing a significant boost to skin elasticity- meaning wrinkles are less likely to appear! Use before bedtime or at any time of day for that flawless look you crave without looking tired all too often.
Your delicate eye area deserves the best care. This creamy eye treatment with Avocado by Kiehl's can protect your skin from dehydration, delivering long-lasting results with every use!
The vitamin A rich formula keeps those under-the-eyes look youthful while Shea Butter shields them against puffiness that may be caused by stress or lack of sleep – all without any migrating elements for more comfort on sensitive areas.
You can stay assured the cream is safe for your eyes as it is ophthalmologist and dermatologist-tested.
Also, it is free from any fragrance or colorants, so it is perfect for people with sensitive skin. This moisturizing under-eye cream will make your eyes pop with life.
We love how it is formulated to hydrate dry skin while visibly brightening and de-puffing the area around them!
Verdict: Buy it!
---
#5. Rare Earth Deep Pore Cleansing Masque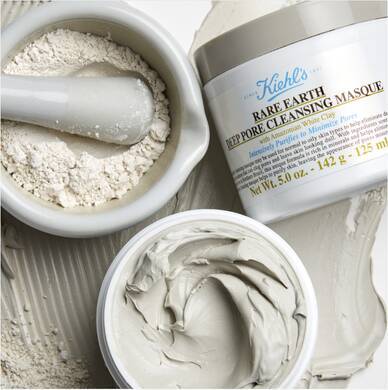 Kiehl's Rare Earth Deep Pore Cleansing Masque is effective in reducing pore size and aiding relevant problems such as Large Acne Keratosis or Seborrhoeic Dermatitis. This product contains oatmeal plus aloe vera, which soothes irritation while shields against external aggressors that may cause inflammation.
With the help of Amazonian clay, this masque draws out oil and dirt from pores to provide relief for sensitive skin. After rinsing off, you'll notice your complexion is clearer with improved elasticity in only one use!
This mask is great for those who wish to reduce pore size and blackheads. Besides, it also helps in calming redness and prevents acne formation by reducing sebum production.
Verdict: Buy it (if you have oily skin or large pores)
---
Line-Reducing & Dark Circle-Diminishing
This powerful serum is designed for reducing fine lines and dark circles under your eyes. It also contains hyaluronic acid, which targets the appearance of wrinkles caused by aging skin cells, a major concern among many women today!
The 3-in1 formula with peptides combined with vitamin claims to reduce under-eye dark circles in just four weeks or so of use.
However, I did not notice much of improvement on my lines and dark circle after using it for 1 month. When applying the serum, my under eyes feel a bit tingling as the Vitamin C content could be too strong for my skin.
We prefer an eye cream that is not as irritating such as Lilyana's Eye Cream. As per our Kiehl's skincare review for this eye cream, you may sit this one out and look to invest in a better one.
Verdict: Skip this one. Try Lilyana's Eye Cream instead
---
#7. Super Multi Corrective Anti Ageing Cream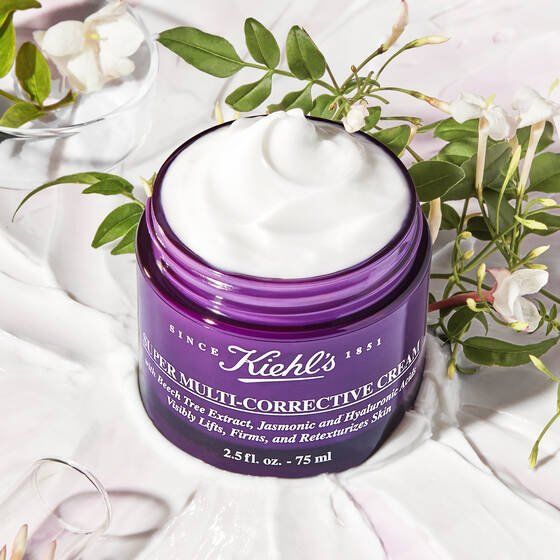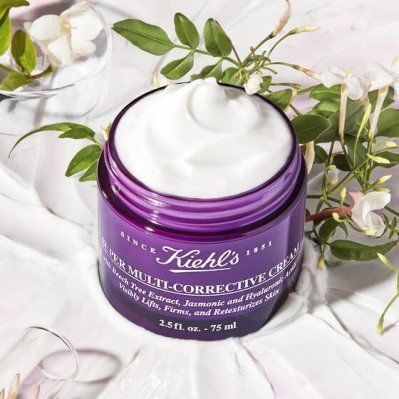 This new formulation of Kiehl's Super Multi-Corrective Anti-Aging Face and Neck Cream comes in a 1.7 oz bottle, with the capability of reducing wrinkles as well as improving skin tone. It is clinically proven, with results that will leave your face smoother and even younger looking!
This Super Multi Corrective Anti Ageing Cream is lightweight and fast absorbing. It is also multi-functional because it addresses the signs of aging while penetrating your skin with moisture. Powered by PhytoMimetic Vitamin A, Chaga Mushroom, and Hyaluronic Acid – these three ingredients work together to become an answer in the search for wrinkles.
The Hyaluronic Acid in this anti-aging cream helps to draw moisture into the skin's surface layers. This is good news for all dry skin beauties out there!
Besides, it also tones particularly around areas like under eyes where we see sagging. It re-texture your skin, leaving you youthful-looking skin with just one application!
Verdict: Buy it
---
#8. Midnight Recovery Concentrate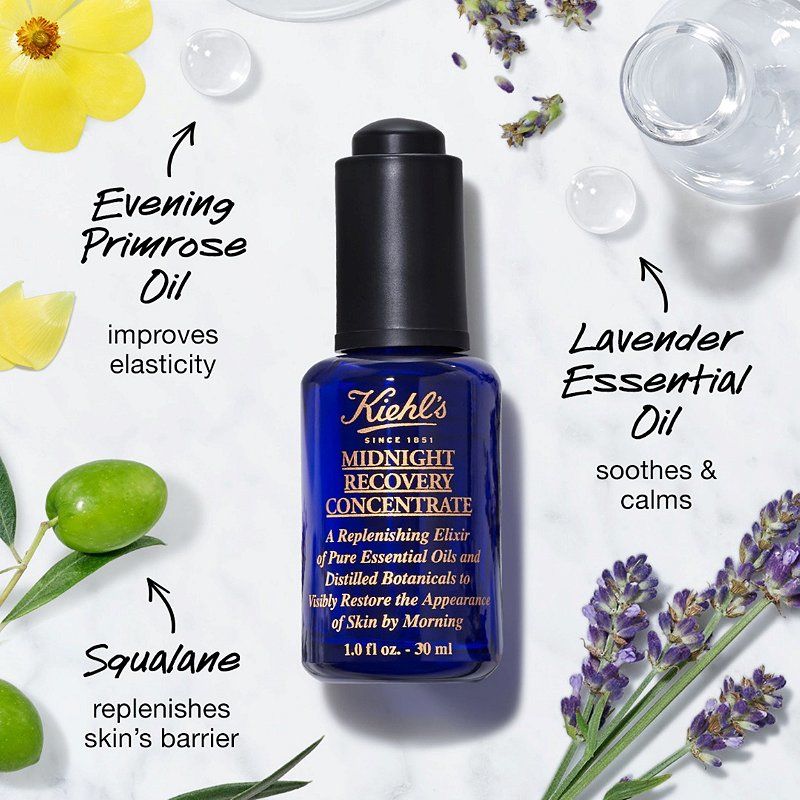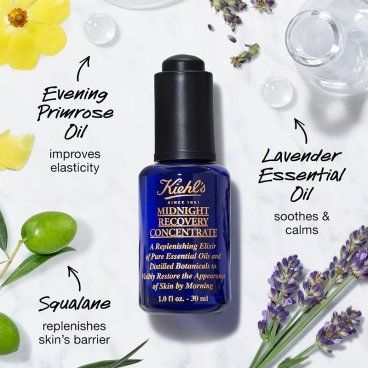 You can't underestimate the power of lavender. Known for its calming properties, this essential oil has been around since ancient times! Kiehl's Midnight Recovery Concentrate is made with a blend that includes ingredients from squalane to evening primrose seeds – all known as great moisturizers for your skin PM treatments or just everyday use.
This is a cult favorite Kiehl's product that may be expensive but worth it.
The midnight recovery concentrate is a blend of oils; however, it is marketed as a serum. Here's a word of caution for those with acne-prone skin as it may cause breakouts and excessive oil production. However, this could be the perfect serum oil for dry skin.
If you have a combination skin type, you may try it for a few days and see how it works. Layering it over a less greasy moisturizer may help get the most out of this formulation.
Verdict: Buy it
---
#9. Creme de Corps Body Moisturizer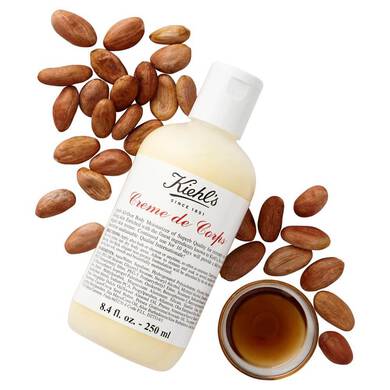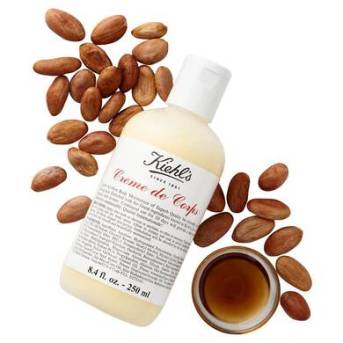 Kiehl's Creme de Corps Body Moisturizer is a luxurious, non-greasy moisturizer that claims to leave your skin feeling deliciously soft. This moisturizer is designed to soften dry skin and hydrate it. It contains cocoa butter, squalane oil, beta-carotene, which all work together in order not only to improve the quality but also the texture of your body! The advantage? You can get rid of those pesky wrinkles from head to toe!
Creme De Corps is a good solution for dry skin. It will leave you feeling soft and hydrated with long-lasting moisturization, but unfortunately, it does leave behind an oily residue on your skin that gets messy after about 20 minutes of wear time which could be distracting while doing other things like makeup or working out!
However, some people find this moisturizer too greasy and non-absorbing. This may stick to your clothes and leave you feeling uncomfortable. Moreover, it may not offer the best value for your money as a body lotion. There are other body moisturizers such as Avalon Organics Natural body lotion that is non-greasy while nourishing.
Verdict: Skip it
---
#10. Clearly Correct Dark Spot Solution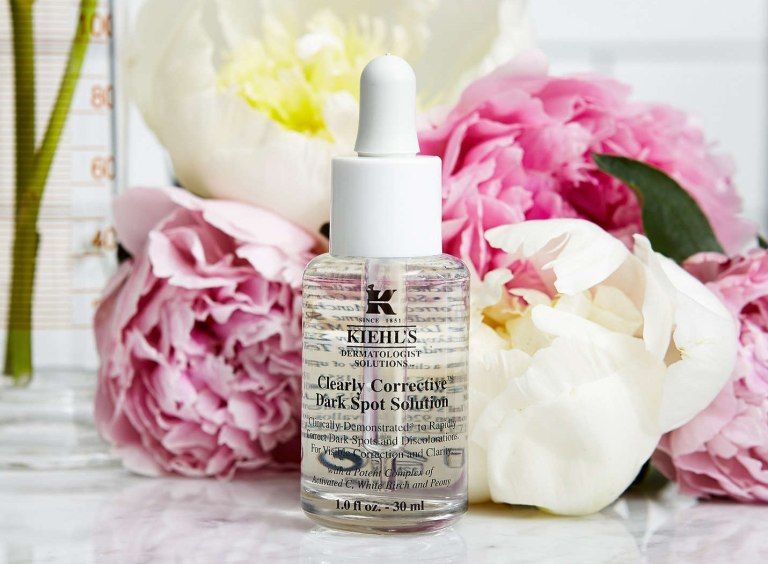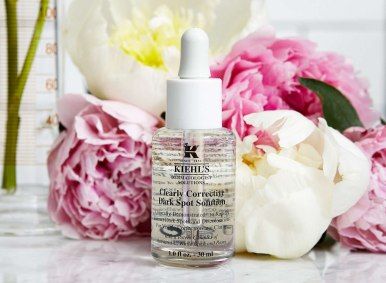 This serum is the ideal solution for those who want their even out their skin tone or lighten acne-scar. Formulated with Vitamin C, salicylic acid, and white birch extract, it will help fade dark spots as well as even out your complexion! All the ingredients work to maintain the sebum production while brightening the complexion.
Kiehl's Cleary Corrective Dark Spot Solution visibly lightens up your skin, evens out skin tone, and diminishes dark spots to impart overall radiance. With continued daily usage, Clearly Corrective helps prevent the formation of future dark spots as well other types of discolorations for an ethereal glow!
If you are oily and acne-prone, I think this product would be great for your skin. It's designed to control excess sebum production, so it will combat the issue of oiliness that often comes along with breakouts! Both Vitamin C and salicylic acid make a powerful combination to prevent any significant acne breakouts.
However, if dryness is an issue for your skin, you do want to layer another moisturizer on your skin after using this dark spot solution.
Verdict: Buy it
---
So…What makes Kiehl's brand stand out from the rest of the skincare brands in the market?
Kiehl's is a staple in the beauty world, known for its clean ingredients and sensitive-skin approved formulas. Besides, the brand uses recycled packaging in an effort to be more environmentally friendly.
They offer wide range of products targeted for different skin types and concerns. With the sampling service, you can try products before purchasing them. You can also opt for consultation from the outlets to pick the right products for you. As per Kiehls products reviews, there are so many cult favorites that work well for all skin types.
This also lets the buyers decide on a custom skincare regime that helps improve skin texture and appearance. Kiehl's is one such brand that combines the goodness of natural ingredients and pharma knowledge.
Final Verdict
Most of skin care products by Kiehl's have excellent reviews in the market. Kiehl's chemists have designed a vast array of product lines that target various skin issues such as damaged skin, aging skin, blemished skin etc.
With their wide range of products, there is something for everyone, no matter your skin type is. But do they live up to all the hype? I found out that not only are Kiehl's products great for everyday use but also that they have a variety of unique and inventive facial treatments too!
They are open about their ingredients. They focus on educating their customers about ingredients and products, making them the perfect brand to start with if you're new to skincare.
Do always consider your skin type and skin issues before picking a product. Also, do not include more than one active ingredient in your skin care when trying new products.
Hopefully, this Kiehls skincare reviews will help you find the best fit for your skin.
Recommended Reads:
Honest Review: Kiehl's Midnight Recovery Oil Concentrate
Honest Review: Kiehl's Clearly Corrective Dark Spot Solution